Plant Slant Juice Difference
Why do we drink Raw Juice?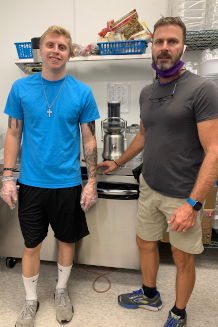 1. Juicing increases consumption of raw fruits and vegetables, as well as allows our body to absorb maximum amounts of nutrients without overwhelming our system with large amounts of indigestible fiber.
2. Plant Slant Juice offers multiple fruits and vegetable combinations in our raw, cold pressed juices to meet everyone's nutrition goals from something lower in carbohydrates with just greens, no fruit, to something with a few more carbohydrates with just enough added fruit to really jazz up your juice if you like more fruity flavor. The fresh fruits and vegetables in our raw, cold pressed juices provide an overwhelming amounts of the nutrients your body craves for great health and wellness benefits.
Why use a Cold Press Juicer from Goodnature?
1. Goodnature X-1 mini juicer uses a cold pressing process that ensures your juice contains only juice, soluble fiber, and all of the healthy nutrients and enzymes from the fruits and vegetables. Only the good stuff. There is no screen or grater so the juice is smooth and clean, not pulpy, foamy, or bitter.
2. The Cold Pressing Juicing process is amazingly unique in that all of the fruits and vegetables are chopped then pressed within a gentle, natural process.
3. The Cold Pressing process produces no heat, which maximizes nutrient content of all juices, which is exactly what we need from our daily or more juices we consume.
4. Goodnature juice is smooth, consistent in color, contains no chunks, and stays fresh for days. Gives your body maximum nutrients without the burdens of the other harsh stuff. Taste juice that is simple, raw, and memorable- the way mother nature intended it to be.
Join our
Juice a Day Club Membership

Order Online
Place your order online for fast service!
Place order now